How to make money selling stuff on Gumtree
With 7 million visitors to their website each month, Gumtree is one of the easiest and quickest ways to find a new home for your pre-loved furniture, technology, clothing, jewellery, and much more. In fact, can you buy, sell and find almost anything on Gumtree. Find out How to List for free on Gumtree here.
According to the Gumtree Second Hand Economy Report, the average Australian has $4,200 worth of unwanted goods in their home. By finding a new home for your pre-loved items, not only are you being kind to your own pocket, but the earth will thank you too.
Here are the top things second hand buyers said they were looking for (Gumtree Second Hand Economy Report 2018);
41% are looking for books
31% are looking for furniture and home décor
29% are looking for cars
28% are looking for antiques and collectibles
20% are looking for clothing, shoes or accessories.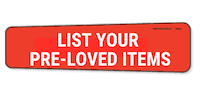 Gumtree like a Pro in 5 easy steps
Not all Gumtree ads are created equal, but there are ways to make your items stand out from the rest.

1. Do your research: Dedicate time to research what's out there and the average price of similar items to make sure you're setting a fair price.
2. Be descriptive and be honest: Describe the product you're selling, including its features, a brief history and reasons for selling the item. Include details of any receipts or warranties you may have for the item. The more information you provide, the more likely you are to make a sale at the price you're looking for.
3. Upload high quality photos: Upload good images to make sure your listing stands out from the rest. You can also pay to upgrade your listing so that more people see it.
4. Manage your listing: Ensure you keep on top of incoming responses. Communicate quickly and directly with potential buyers through My Messages and download the Gumtree app on your phone so you can manage your listing on the go.
5. Meet face-to-face: It's important to meet in-person so the buyer can inspect the item and to exchange money. For personal ease and safety, have someone with you. If you've set a time to meet a buyer, stick to the plan and show up on time.